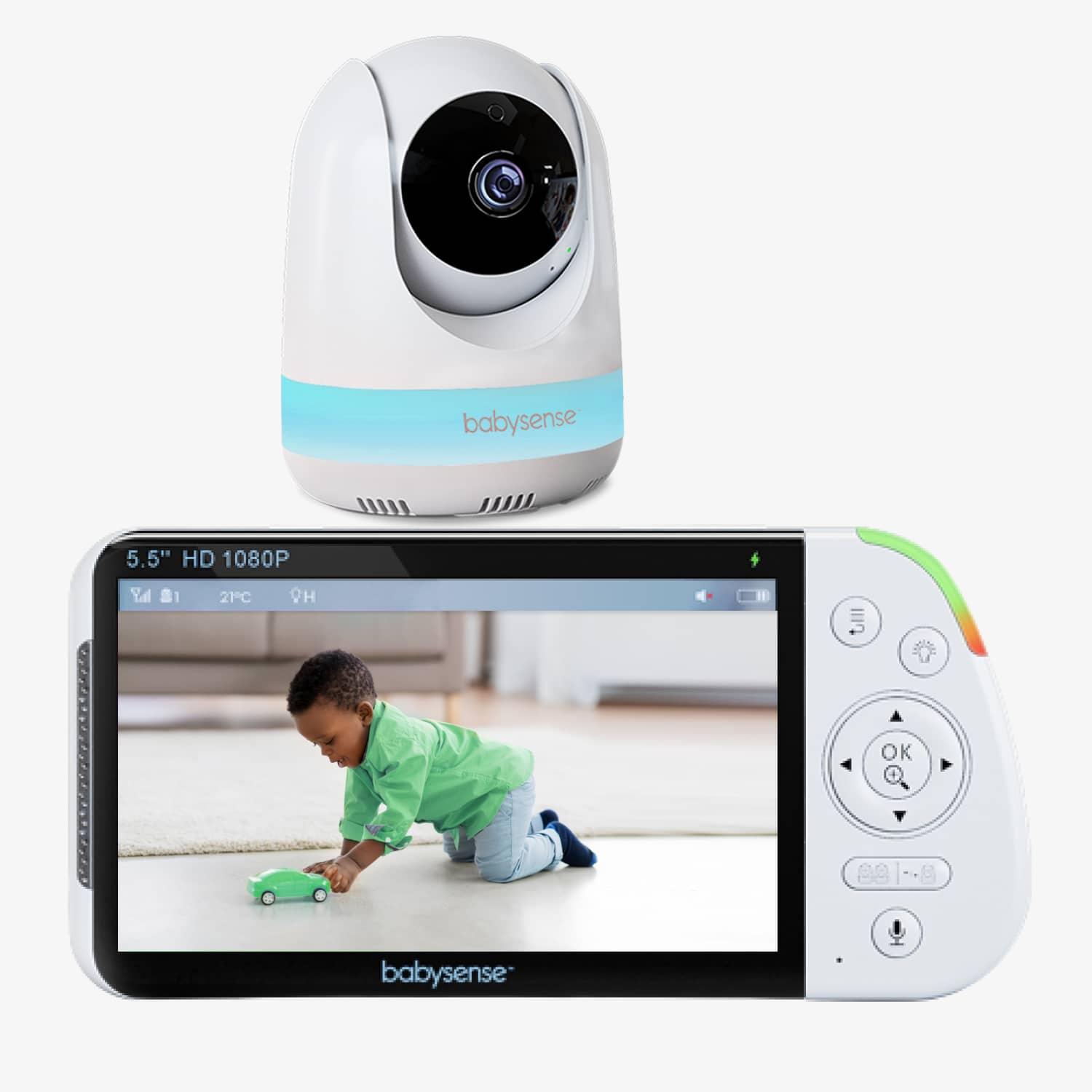 Maxview 5.5 Inch 1080p Full HD Split-Screen Baby Monitor - 1 Camera

5.5" Split-Screen Full HD 1080p Hack-Proof Baby Monitor with Pan Tilt Zoom Camera by Babysense
Babysense brings yet another baby monitor with this MaxView model. This high-quality monitoring system comes packed with 2 Full HD cameras and 1 large Split-Screen baby monitor with tons of versatile monitoring features.
5.5" Full HD 1080p display
RGB baby nightlight camera
Split-Screen baby monitoring
Extended battery life (up to 20 hours)
Long range up to 1000ft (open space)
Non-WiFi hack-proof video monitor
White noise & lullabies

▶Detailed overview
MaxView uses a High Definition fully motorized (Pan Tilt Zoom) camera with 4x zoom so you can have immense control and a wide panning overview of the whole room. The baby monitoring is displayed on all-new large 5.5" Split-Screen display with great brightness and clarity.

▶Comfort your little angel
In the case when your baby is having a hard time to stay calm or accidentally woke up and needs to go back to sleep, you can help your baby to fall asleep again using the built-in lullaby sound or white noise sound. Additionally, use your own voice or sing with the two-way audio to let your baby know you are there.

▶Monitor day & night
Using the latest IR night vision you are set to monitor your baby in day and night. And with the adjustable room temperature control, you will also know when you need to increase or decrease the room temperature so you can let your infant sleep and stay in a perfect environment.

▶Why MaxView by Babysense:
▪️ Camera features adjustable RGB Night Light function
▪️ The screen features a Split-Screen function, allowing to see two cameras or babies side by side on the same screen (when two or more cameras are paired - supplied with one).
▪️ Great control with remote pan and tilt
▪️ Clear overview with crisp HD 1080P display & 4x magnification
▪️ Interactive use with two way audio
▪️ Long-lasting battery (5000 mAh) with power saving mode based on the sounds in the room (VOX)
▪️ Wider range (up to 1000ft in open space)

Now it's time to equip your home and days as a parent with a more advanced baby monitoring system.